Haunting
work in progress

2022–23
'Haunting' is a moving image work that asks how identity is formed by place and family of origin. Created in collaboration with a queer team, 'Haunting' uses gothic novel 'Wuthering Heights' (1847) by Emily Brontë as a vessel to explore themes of addiction, dysfunctional ways of loving, and intergenerational trauma.

Filmed at the supposed location of Wuthering Heights, Top Withens above Haworth in Yorkshire, 'Haunting' will be shot on 16mm with the support of Alexander Hetherington. Edited digitally to create a rhythmic visual landscape, the use of 16mm will capture the depth of colour and texture of this visceral and often inhospitable moorland. The footage will be accompanied by a voiceover developed in collaboration with writer Seth Hannah, drawing on motifs of haunting and themes of subversive gender roles, addiction and dysfunctional relationships within 'Wuthering Heights'. Seth and I will devise a voiceover that creates a fictional 'third voice' generated through collective research and co-authorship. The voiceover will be held by an evocative and propelling soundscape devised in collaboration with composer and sound designer Char Bickley, creating tensions, release and catharsis through a combination of manipulated field recordings and synthesised rhythms.
Captions and audio description will be woven into the fabric of the new work.
Team
Annie Crabtree – director and editor
Molly Whawell – producer
Alexander Hetherington – director of photography
Seth Hannah – writer and voiceover performer
Char Bickley – sound designer and composer
Sarah Perks – mentor
Mathew Wayne Parkin – consultant
'Haunting' is supported by Creative Scotland.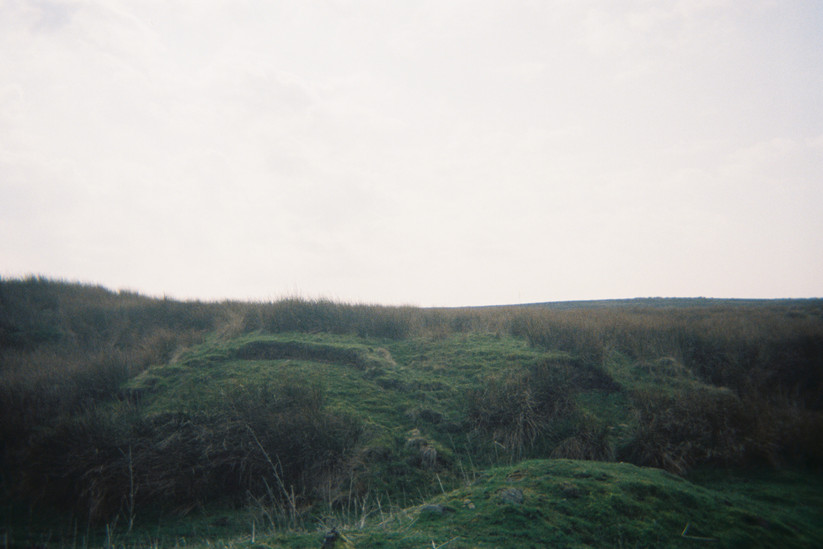 Image: 'Haunting', 35mm still from test shoot, Top Withens, Yorkshire. March 2022.
Image description: a colour analogue photograph of the Yorkshire moorlands. The rolling landscape cuts the image in half, the sky is light grey and cloudy, various textures of grasses, moss and heather take up the bottom half of the image in deep greens and browns.